"Sola Busca Tarocchi"
probably 1491

Engraved, first complete deck with 78 cards. At least one of the oldest numbered decks (perhaps the oldest of them). With the Boiardo poem and the "Sermones De Ludo Cum Aliis" it belongs also to the oldest sure evidence for the 22+4x14-structure of Tarot, so a precise dating of this deck is of some importance for the conclusions about the development of Tarot.
The motifs are Roman heroes, the cards contain inscriptions and numbers. A.M. Hind (1938) described a complete deck in the possession of the Sola Busca family, and that he was allowed to examine the cards in 1934, but the trace of this deck and the family is lost. Fragmented groups (copies of the same or a similar metalplate) of cards are in the possession of various other Museums. The productions are not totally identical.
Interestingly the trumps are numbered with the old Roman system, but the Matto card carries an Arabic "0". As we cannot date the invention of numbers on the cards precisely, the Sola Busca might be the oldest deck with numbers. The time of 15th century showed a revolution in the number system from Roman numbers to Arabic numbers, so the use of the Arabic "0" is of some importance.
The deck is with some probability dated to the year 1491, cause an inscription on the trump IV "Senatus Venetus" and on trump XIIII "Anno Ab Urbe Condito MLXX" which is interpreted as refering to a legendary date of the founding of Venice. However, not all versions of the Sola Busca show this inscription (see pictures to the right, the inscription is on the shields), so it might be, that the dated deck is the copy of an earlier. An alternative interpretation of the mentioned inscription suggests the year 1523.
Kaplan (Tarot Encyclopedia II, p. 297) points to a possible and earlier origin in Milan cause of a dedication "A FILIPPO" at the throne of the King of Coins and the use of the motto "Pax" on the banner of the same figure. Kaplan presents 23 pictures (from the Albertina Colllection, Vienna) at p. 126/127 Encyclopedia I and further 63 cards at p. 298-302, Encyclopedia II. This is not naturally a good idea, as another figure in the game is named Alexander (the great) and "Filippo" might refer to Alexanders father Philipp of Macedonia.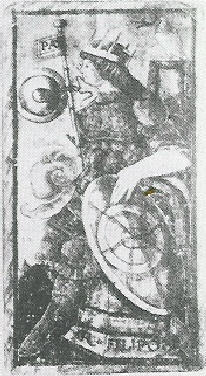 It is suggested, that this deck is either from Venetia or Ferrara.

The recommended article to Sola-Busca-Tarocchi by Michael J. Hurst

contains much information to the Sola Busca not given here. A major problem is the identification of the presented figures.

Article of Giordano Bert (Italian)



Original / Full deck (78 cards)

Arcanes

Images supplied by Murray Mencies

The Sola Busca Tarocchi has been republished in slightly modified form. From the WWPCM:



WWPCM02394
"Lo Scarabeo" (Italy)
deck "Illuminating Ancient Tarots" (or "Sola-Busca Tarot"), 1995
designed by Sola-Busca in XV c.

Full deck (78 cards), dimension 60x115 mm.

Arcanes

images supplied by Vladimir Strannikov