Tarot News
13th of August 2010,
A lot of things happened, since I wrote the last edition of the Tarot News in September 2009. ... :-) ... too much to tell it all. Most of it happened at the backstage in research, well, this was VERY GOOD, but anyway, so the website didn't have much progress. And the Tarot-News, last edition hopefully written in September 2009, again took a pause.
But now, the web work has restarted, and with the help of Dieter, our Technical Magician, we try to restore a lot of the older projects. One, not really ready for the moment, has found a new outfit, the project Biography of Tarot and Playing Card-Researcherswith now about 80 entries about researchers in 300 years, some shorter, some longer. Only occasionally we go to larger biographial detail, we think it more of interest to manifest a link resouce, where one can find researchers and their texts or webpages or other activities in simple way. The list you find at the right lower side of the page.

Other matters I'll note later, only some points of immediate importance:

Ross Caldwell, Marco Ponzi and Thierry Depaulis published together a new book Explaining the Tarot, which translates two smaller works of authors of the 16th century.
A first small number edition was sold out within 2 months, now the second printing is already arranged.

From pulishing text:
"The symbolism of Tarot cards has intrigued people for five centuries. In this volume, two Italian authors of the 16th century, one known, the other anonymous, interpret the meaning of the Tarot trumps and the suit cards from a variety of interesting perspectives. Drawing from philosophy, religion, poetry, contemporary science, and the rules of the game itself, while at the same time offering examples from history and current events, the authors describe a series of images that for them is more than a game. They find that the symbolism of the cards, and their order, offer moral lessons and a wholesome guide to the ultimate purpose of life, which is to seek God. Their two discourses on the symbolism of the Tarot cards, here edited and translated into English for the first time, are the earliest ever written, and offer a rare glimpse into the other side of the game of Tarot in its first centuries ? the meanings people saw in the pictures on the cards."



"
New Production May 2010
ISBN 978-0-9562370-1-9
72pp paperback
Price £7.00



Near to its publishing date (I'm not sure, if it is already delivered to the distribution) is the grandios "Il Castello dei Tarocchi", DinA 4, 224 pages, with more than 500 pictures, coordinated by Andrea Vitali, and with contributions of Essays by Giordano Berti, Alain Bougearel, Franco Cardini, Ross Sinclair Caldwell, Thierry Depaulis, Gerardo Lonardoni, Alberto Milano, Giovanni Tesio, Bepi Vigna, Andrea Vitali, Girolamo Zorli and Lothar Teikemeier, an Italian edition by Lo Scarabeo Editions, Turin 2010.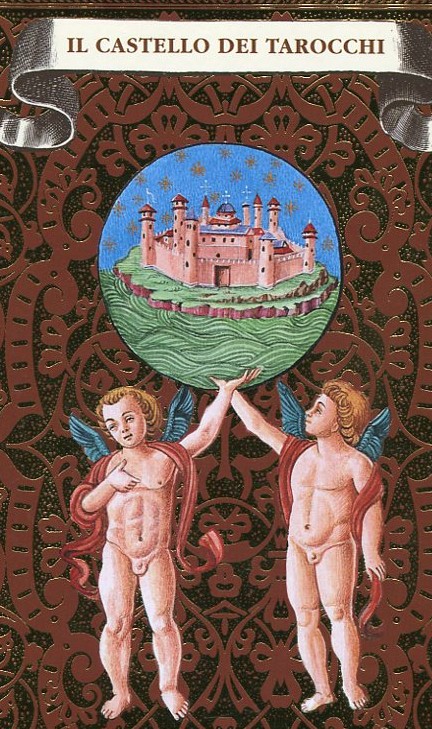 ... .-) ... you see, how practical our Biography list is, a lot of the active persons could be listed and reached via the links. Andra Vitali at his Webpage LeTarot.it has a similar development, though more focused at living persons connected to his Cultural Association Le Tarot, mostly Italian researchers, but also now with a few tarot History enthusiasts from foreign countries and between them some closer connected to Trionfi.com and its activities (so again Andre Vitali, Ross Caldwell, Alain Bougearel, Thierry Depaulis, Giordano Berti, Girolamo Zorli (but in another show with other aspects) and now also Franco Cardini, Gerardo Lonardino, and our friends Robert Mealing and Jean Michel David and web legend Robert "Bob" O'Neill ... - so together we get with our biographical attempts most of the authors of the "Il Castello dei Tarocchi", but of course, not only these.



Also Trionfi.com has a webpage there ... .-)
Well, that's a good sign and it hopefully means, that in the past 7 years the cooperation between the Researchers in the field of Tarot Research had improved considerably, once thanks to the growing internet and its splendid features and otherwise thanks to increased cooperating activities, Tarot forum talks, web publications and other effects of these international communication storms. So let's be happy with this.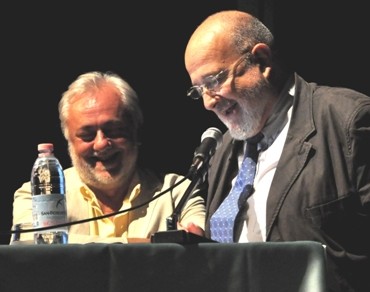 Andrea Vitali with Professor Franco Cardini, one of the most accepted mediavists in the current time. Franco Cardini contributed with various articles to catologues of exhibitions of Andrea Vitali since already 1994. Now he participates also in the authorship of "I Castello dei Tarocchi".
---


Added later (2013): The connected book "Il Castello dei Tarocchi" was presented in our Reviews section. (Huck Meyer)
Recent Tarot News Editions:
OLD Tarot News - Editions
---
Early time of Playing Card History


Trionfi.com is interested to be informed about new developments. If you've a news to spread, we like to hear about it.
Mail to Webmaster