Note 2012-12-06
This is - for the moment - only a Beta-version of something, which might be in a more refined and corrected state around end of February 2013 (hopefully with some optimism).

For the moment it's given as a not finished experiment to improve the research situation of early Trionfi cards, from which - this is a general assumption - later the series of Tarot cards developed.
In 2003 Trionfi.com started and as a research tool we collected the early Trionfi card documents, as far they were reachable to us. These collections were published in the web, first composed for the years 1441-1463, later expanded till the year 1500. As we focussed mainly on research and not on publication since c. 2007, the webpage became sleepy and didn't contain in all points the latest state of research, there was just too much work and other things to do.
End of 2011 Franco Pratesi joined our activiies and restarted his earlier fruitful work on playing card history. In one year he published 35, partly rather long, articles, and the greater part of them were focussed on 15th century, the time, on which we are specialized. He found in Florentine archives more than 60 new Trionfi documents for the period 1445-1462, which increased our earlier collection for a comparable period with c. 200%.
This was a major impact and naturally a research revolution, and second the reason to update our meanwhile a little bit old-fashioned Trionfi.com collection of the early time of Trionfi.com.

Well, much work. For the moment it's already useful enough to have it available online, but the friendly reader might be warned, that there may be unfinished ends, mistakes, a lot of empty places and all this, what makes this to a Beta-Version, and not the finished product.

The most important articles of Franco Pratesi (as far this project is concerned) are:



***************
Note September 2013
The progress with this project - as so often - didn't happen as expected. So it's still a "beta version".

New results

.... (not included in this representation) appeared in a series of articles to Arezzo, written by Franco Pratesi in the course of the last year:


Trionfi cards have only one appearance in these articles, in the article to Stefano Minucci:



ASFdL 3459, f. 191r
Prestai adì 4 di genajo [1471] a Francesco di Nicolo di Giovanni uno paio di Triunfi portogli il francioso loro famiglio ...................... L.-



It's later as our considered time frame, so here not of special interest.

Of greater relevance is the early date of some of the documents, especially those considered in the article 1400-08 – FLORENCE-AREZZO TRADE OF NAIBI. Information of this density so close to the begin of European playing card development are very rare, perhaps only comparable to the collection of Alexandre Pinchart to the court of Brabant 1379-1383. Pratesi's analyzes show this picture: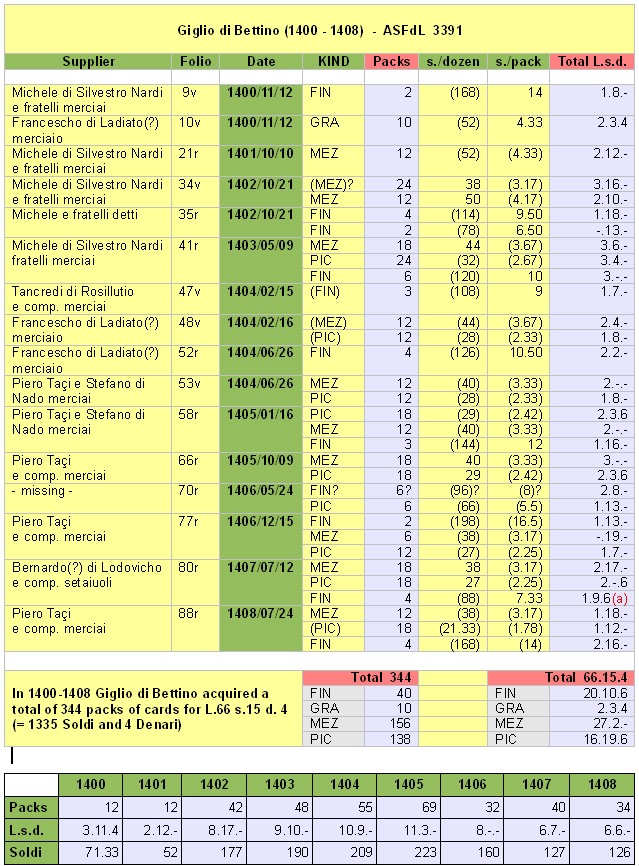 Further new results

.... appeared with the article of Arnold and Doris Esch "Aus der Frühgeschichte der Spielkarte. Der Import von carte da giocare und trionfi nach Rom 1445-65." Gutenberg Jahrbuch 2013, 88. Jahrgang, p. 41-53. The article contains 107 Trionfi card notes from the period 1453-1465, from which 106 are new to us (about the same number of documents, which we had collected before from other sources). All notes are from a custom register in Rome.
This is truely an impact for our collection, for the current moment the material is only summarized in our collection list for Trionfi card documents.

Closer observation of this article is prepared at the page Esch reports.

Prof. Dr. Arnold Esch reacted with this article on the interest demonstrated by the publications at Trionfi.com. For this and especially the really worthwhile new data to the early Trionfi card history we've to present our greatest thanks.